The Different Types of Electronic Closings​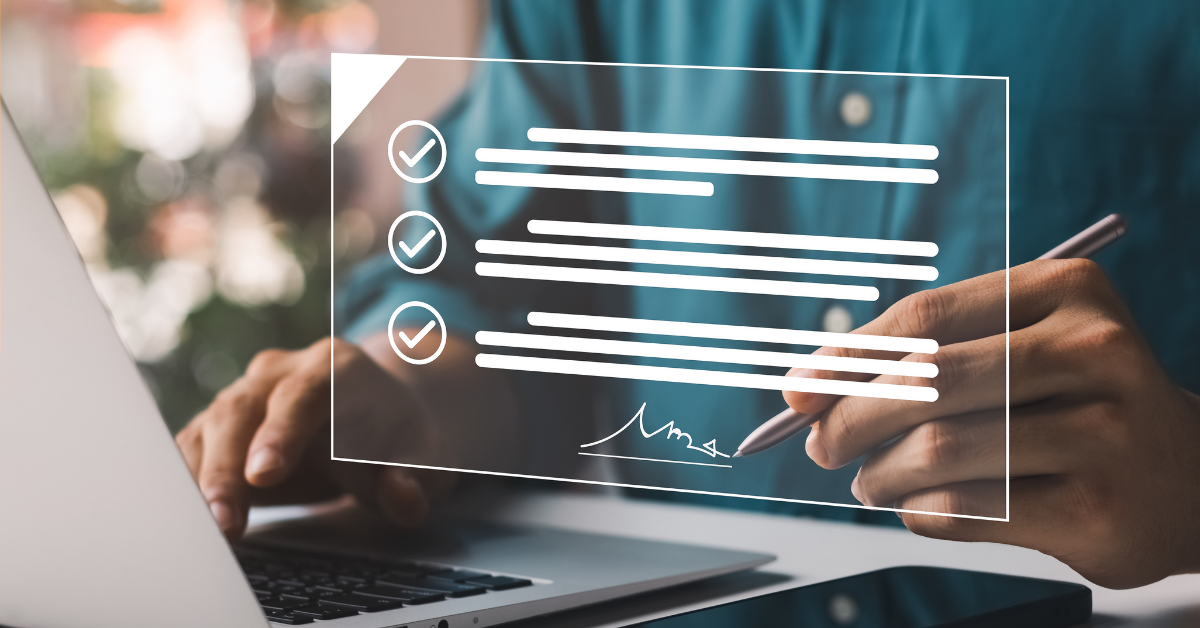 Disclaimer: The information provided on this site does not, and is not intended to, constitute legal, financial, tax, or real estate advice. Please consult your expert for advice in those areas. All content is for general informational purposes only and is not intended to provide a complete description of the subject matter. Although Blueprint provides information it believes to be accurate, Blueprint makes no representations or warranties about the accuracy or completeness of the information contained on this site. Specific processes will vary based on applicable law. The title and closing process will be handled by a third-party attorney to the extent required by law. Product offerings vary by jurisdiction and are not available or solicited in any state where we are not licensed.
Over the past few years, the real estate buying process has become more digital. From virtual home tours to online mortgage loan applications, buyers have more convenient ways to purchase real estate. When it comes to closing day, you may have the option to try eClosing, but not all eClosings are alike. During the coronavirus pandemic, several states issued executive orders temporarily allowing certain kinds of eClosings. Since then, confusion remains about what an eClosing entails.
If you haven't experienced eClosing firsthand, here's what you need to know.
What is eClosing?
A real estate transaction is finalized between the buyer and seller when all the closing documents are signed. Traditionally, parties involved in the transaction physically go to a title company or real estate attorney's office to sign the paperwork in person. 
In an electronic Closing, or eClosing, you'll find all or a combination of these components: 
Electronic signature

(eSignature): an electronic element affixed to an electronic document to emulate your manual signature. 

Electronic notarization

(eNotarization): the process of completing a notarization by attaching an electronic notary seal, signature, or certificate to an electronic document with the use of devices like a computer or tablet. Electronic notarization can be executed in person or remotely. 

Audio-video communication

: live video streaming between you and another party.

Remote

: actions like affixing your eSignature to a document are completed online in any location. 
Remote online notarization (RON) is perhaps the most well-known type of eClosing, but if you use any of these elements to finalize the documents in your closing package, it's a form of eClosing. 
Different Types of eClosings
Below we outline several eClosing methods and their similarities and differences.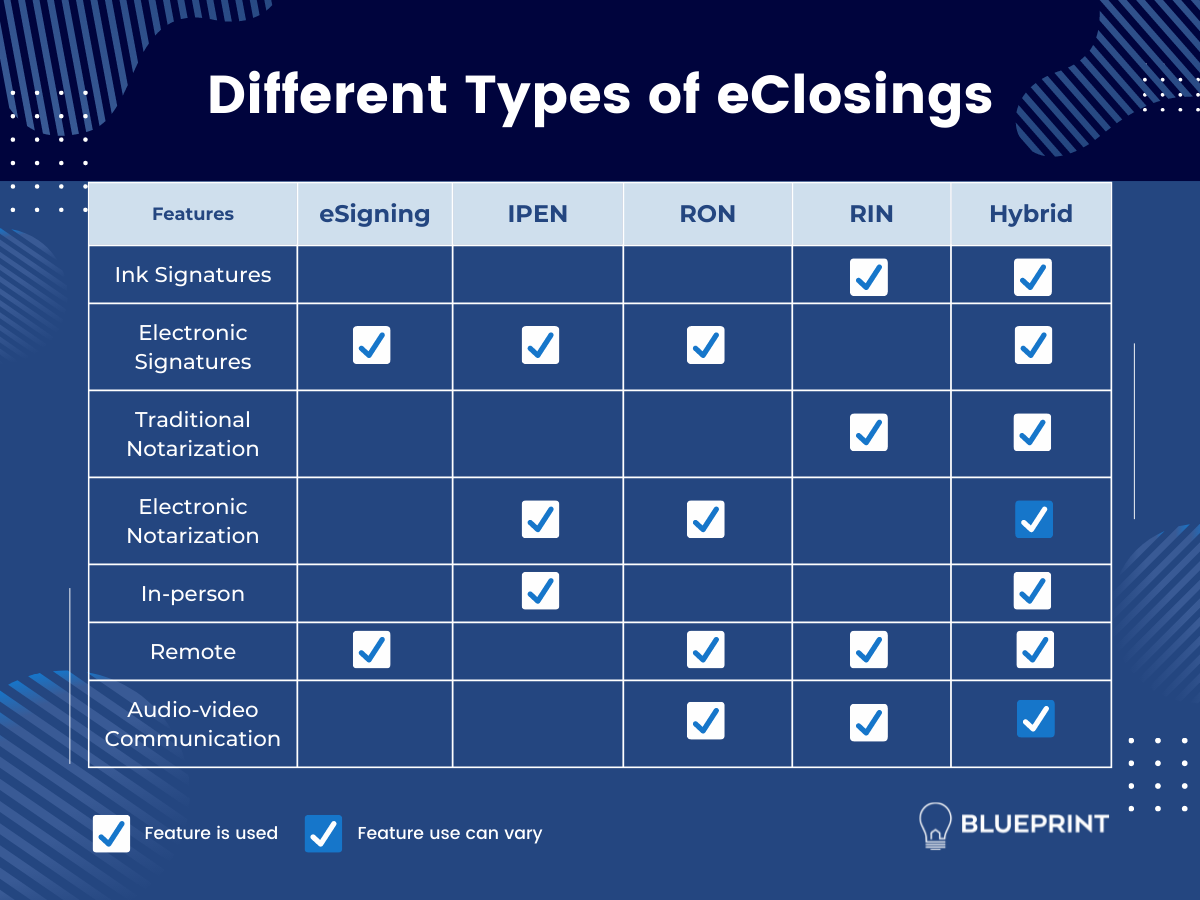 eSigning 
Electronic signatures are a feature of almost every eClosing. Your eSignature is an "electronic sound, symbol, or process attached to or logically associated with a contract."
This version of your signature carries the same legal implications as your manual signature when applied to closing documents. 
Generally, to complete a real estate transaction, a loan signing appointment is scheduled with a title company, real estate attorney, or loan signing agent. Depending on your role (e.g. buyer, seller, or other), the type of transaction and your state, you may be eligible to do an eSigning appointment instead when no documents require notarization.
A common example includes signing cash-only buyer documents. This option is often utilized by high-volume investors who want to avoid a visit to a title company office to sign paperwork. 
Where available, Blueprint makes closing your next cash purchase a breeze with eSigning. See how by requesting a demo.
In-person Electronic Notarization (IPEN)
With IPEN, the signer and notary meet face-to-face at the same physical location to execute all the documents electronically on a tablet or computer. There are no pen and ink signatures involved.

IPEN is also known as eNotarization in certain areas. You may hear the phrase "remote online notarization" and "electronic notarization" used interchangeably, but they're not the same thing. Electronic signatures and electronic notarizations are legally recognized in almost every state and used to varying degrees for real estate transactions, but not all states allow notaries to use RON. As a result, you may have a transaction that can be executed with IPEN, but not RON. 
Additionally, the use of eSignatures and IPEN may be limited for some lender documents like the promissory note because it requires a complicated control system to designate and track the original note. Not all lenders are set up to create, store, and transfer electronic promissory notes. 
Remote Online Notarization (RON)
RON combines electronic signatures, electronic notary seals, and video conferencing within a secure platform. To complete a RON transaction as the signer, you'll need access to the right kind of device. Certain platforms allow you to use a tablet while others require a desktop or laptop. You'll also need a stable internet connection and a video camera with sound enabled. 
The RON platform asks you several questions to establish your identity, similar to the questions you answer when applying for a loan or credit card. You'll also upload at least one type of identification into the platform to be scanned for authenticity. Once you've passed the identity check, you'll join the notary in a live chat session to review and sign the closing documents. While notaries must be located within their commissioning states to complete a RON signing, the signer may appear virtually from almost any location. 
RON has rapidly grown in popularity since the pandemic began. Currently, 40 states have passed permanent laws. 
RON helps close more deals faster with less staff, according to one study from Notarize. For real estate investors, the time saved from avoiding a trip to their title company's or attorney's office is one major benefit of using this type of eClosing. 
Complete your next transaction online with Blueprint. Schedule a demo to learn more.
Remote Ink Notarization (RIN)
Don't confuse RON with RIN (Remote-Ink Notarization). RIN gained popularity during the pandemic as well to allow notaries, title agents, and attorneys to conduct a wet-ink signing over video conferencing technology like Zoom or GoTo Meeting. RIN was utilized in many states without permanent RON laws and authorized under temporary executive orders from governors.
Only four states – South Dakota, Montana, Wyoming, and Alabama – have passed permanent RIN-specific laws. 
Unlike RON, many in the real estate and mortgage industry are skeptical of the viability of RIN as a long-term eClosing solution. Still, enough transactions utilize this option to warrant specific guidelines from Freddie Mac and Fannie Mae on how to protect borrowers from potential fraud. 
Hybrid 
A hybrid closing typically combines eSigning and traditional in-person notarization. Certain documents are sent to the signer before the scheduled closing to eSign, while others will need to be wet-ink signed in the presence of a closing agent, notary, or attorney. 
Scheduling Your eClosing with Blueprint
At Blueprint, we bring together the best technology into one platform to enhance the title and closing experience for real estate professionals and their clients. We offer eSigning and Remote Online Notarization options for qualifying transactions. Availability of eClosing varies by states laws in all states. If your transaction isn't eligible for one of these eClosing options, you and other signers will meet with a mobile loan signing agent to complete the closing on your schedule. 
Learn more about scheduling an eClosing with Blueprint. Request a demo.