Blueprint is always improving the title and closing experience. Take a look at the latest updates we made to improve transparency and track the momentum of each closing. 
Feature Release | May 15 2023
Document Management Updates
This week, we've released two new features to make collaborating with Blueprint even easier. 
First, Blueprint now has direct, shareable links to specific important documents.
Now, the Blueprint Title team can send you direct links to important documents. Rather than requiring you to log in and find the document in question, or attaching a document to an email, our team can send you a link to the document. 
When you click on the link, you will be directed to log in to the Blueprint Portal. Once you've logged in, you will be immediately directed to the document in question. No more searching through transactions. No more scrolling through documents. 
Second, you now have the ability to name your documents when you upload them to a transaction. Instead of relying on the file name, you can assign a specific name, allowing our team to understand what has been uploaded and review it quickly. 
Feature Release v3.22.0 | April 2023
Notifications and Conditions Updates
We have two helpful updates releasing today for all Blueprint users. 
First, banner notifications will now display the property address in the message. This will help users better understand their notifications at a glance, and navigate accordingly.

Second, we've added new conditions. 
Signing Complete indicates that all parties have completed their scheduled signings, but the transaction is not yet fully closed.

Under Review indicates that our team is currently reviewing a submitted transaction prior to opening that transaction and beginning the title process.

Declined indicates that a transaction does not meet our minimum requirements for order opening and thus has not been accepted.

Feature Release v3.19.0 | April 2023
Multi-File Upload and Files Tab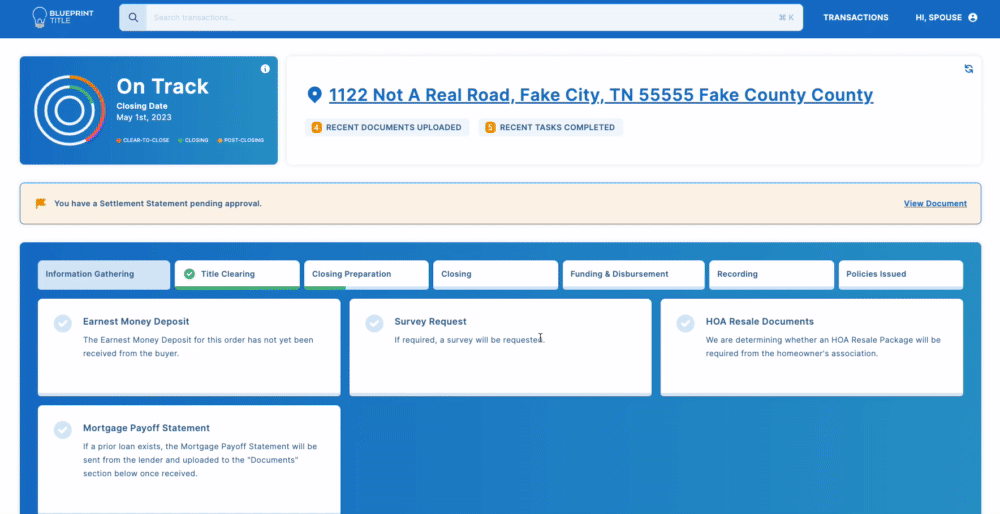 In this latest release, we've added two new features to make uploading and downloading documents more straightforward. 
Multiple File Upload: users can now drag and drop files into their transactions using the drag and drop box located below each transaction's document list. Alternatively, click the link to upload, which will open a files window, allowing the user to upload multiple files. 
Files Tab: users will now see a files tab in the top menu bar of their dashboard. Clicking this tab will take the user to a full list of documents from all transactions. The user can then export all documents (up to 100 at a time) or filter to a specific document type, and export only selected documents.  
For a more complete write-up of these features, check out our release blog. 
Feature Release v3.19.0 | March 2023
Settlement Statement Approvals
Move your transaction forward with this newest feature. The settlement statement is one of the most important documents to review before the closing. Now it's easier to review, request updates, and approve this document in the Blueprint portal. 
Key features: 
Receive in-app and email notifications when a statement is ready for review.

Log into your Blueprint account to review and approve the settlement statement. 

Request a revision in one click. 

Leave detailed notes to the Blueprint team to resolve questions and concerns quickly. 

See when a settlement statement is approved, pending a revision, or not reviewed yet by other parties in the transaction. 

Never lose an approval request in your email inbox again.  
This update is available to all Blueprint users.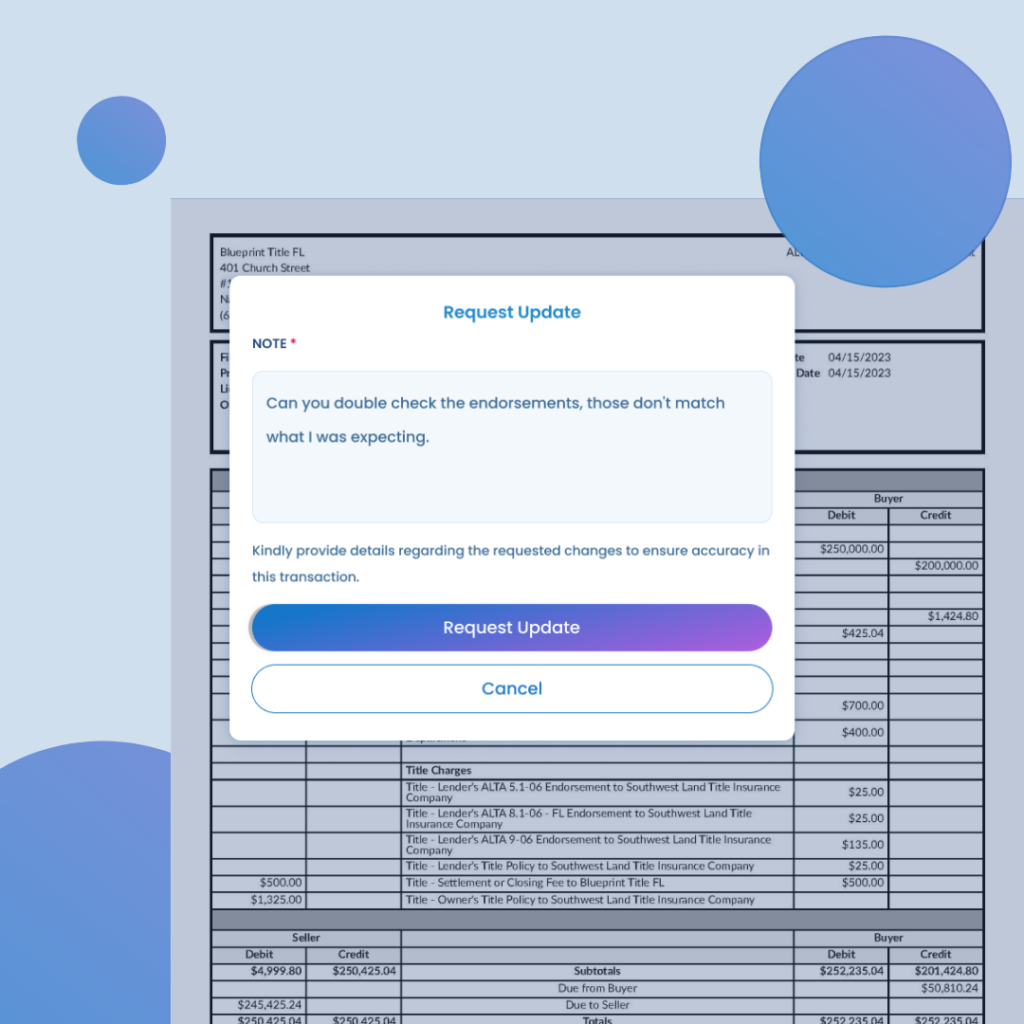 Close Faster with Collaboration
An incorrect settlement statement can create a major friction point in your real estate closing. Alleviate the stress of last-minute revisions and ensure a smooth closing process with this feature.
Buyers, lenders, agents, and other users can easily communicate with the Blueprint team to ensure the correct fees, payoff amounts, and other line items are listed. 
Email approval requests can become unruly when you're managing multiple transactions with different buyers, sellers, agents and other parties. This feature streamlines the approval process by providing a centralized place for everyone to take action.
You'll never lose an important attachment in your crowded inbox when you log into the Blueprint Portal to approve settlement statements.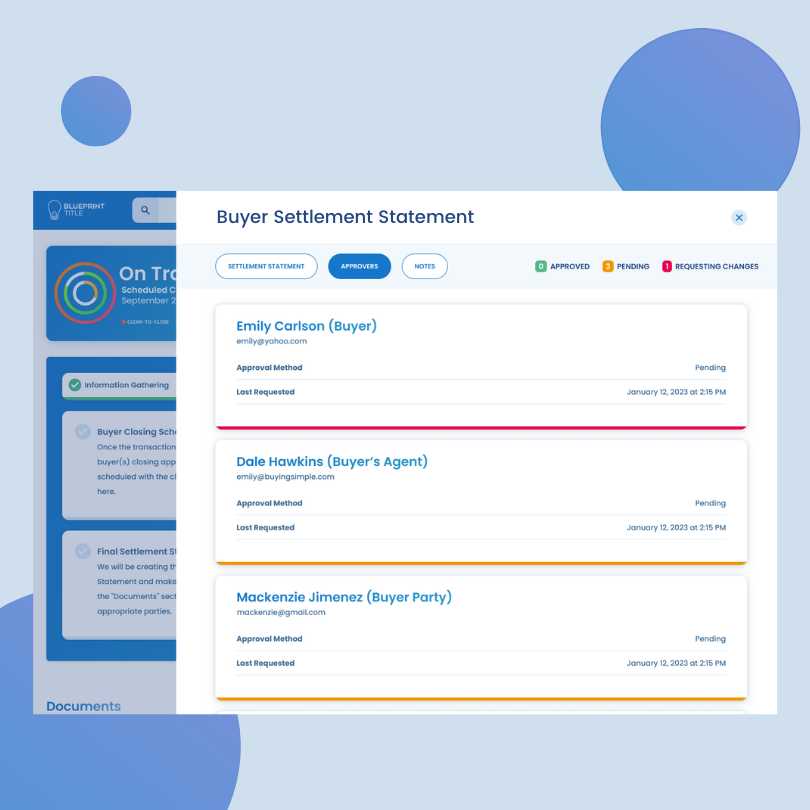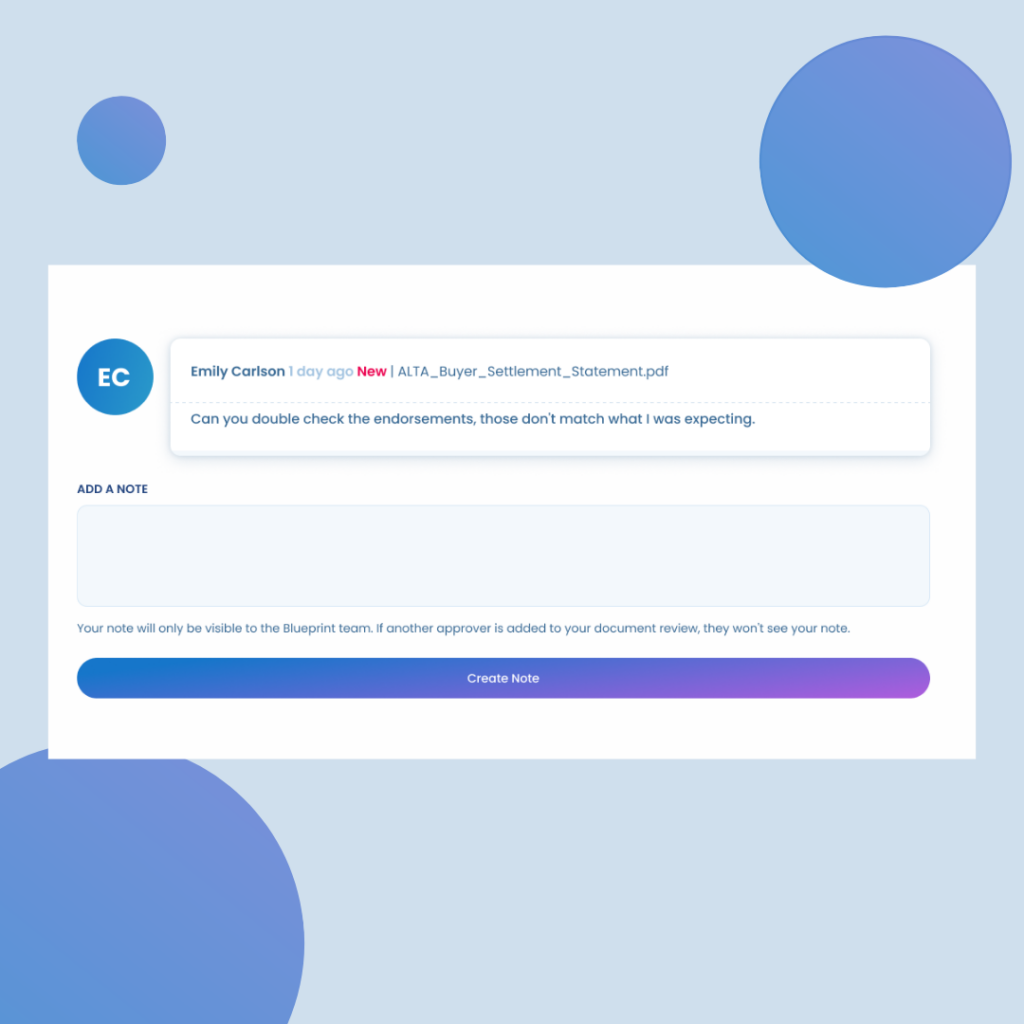 Maintain Transparency and Privacy
Depending on your role in the transaction, your settlement statement may only reflect information relevant to you. This feature balances transparency and privacy. When requesting a change to your statement, your note will only be visible to the Blueprint team. Additional users may be added to an approval if needed, but your communication with the Blueprint team will stay private.  

If you have any questions about this new feature, contact our team at support@blueprinttitle.com or create a ticket in the Blueprint portal.
Feature Release v3.14.0 | January 2023
Google Authentication Login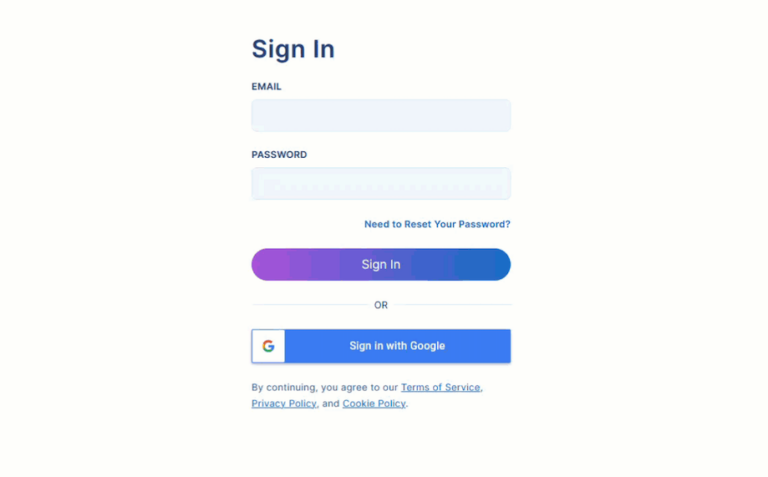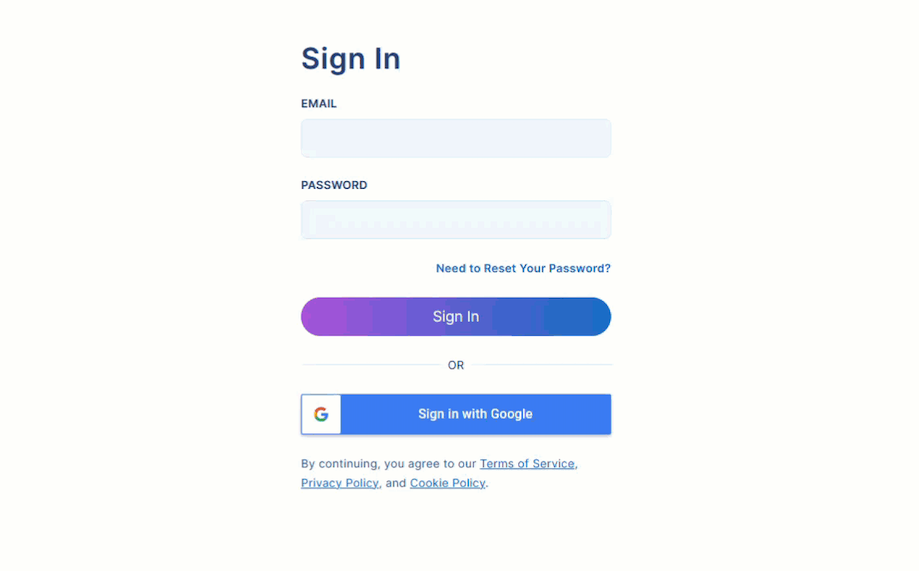 Using a new device? Forgot your Blueprint password? There's a new way to access Blueprint with our latest feature update. 
Now, you can sign in with Google. 
Click on the Sign in with Google button, choose the email address attached to your Blueprint account, enter your email login credentials, and you're in! 
Feature Release v3.13.0 | December 2022
To see a summary of the information below, watch this short demo video highlighting all of our feature updates and what they mean! 
New features:
Conditions
Last Completed Task
Progress Card
Transaction Header Alerts
Requirements for Clear Title
Updated Features:
Milestone Bar
Tasks Card Enhancements
See Quick Updates on Your Transactions
Communication is one of the keys to closing on time. These new features on your Transactions Dashboard help you quickly assess how your transaction(s) are progressing and the most recent activity completed by the Blueprint Team.
Conditions
Last Task Completed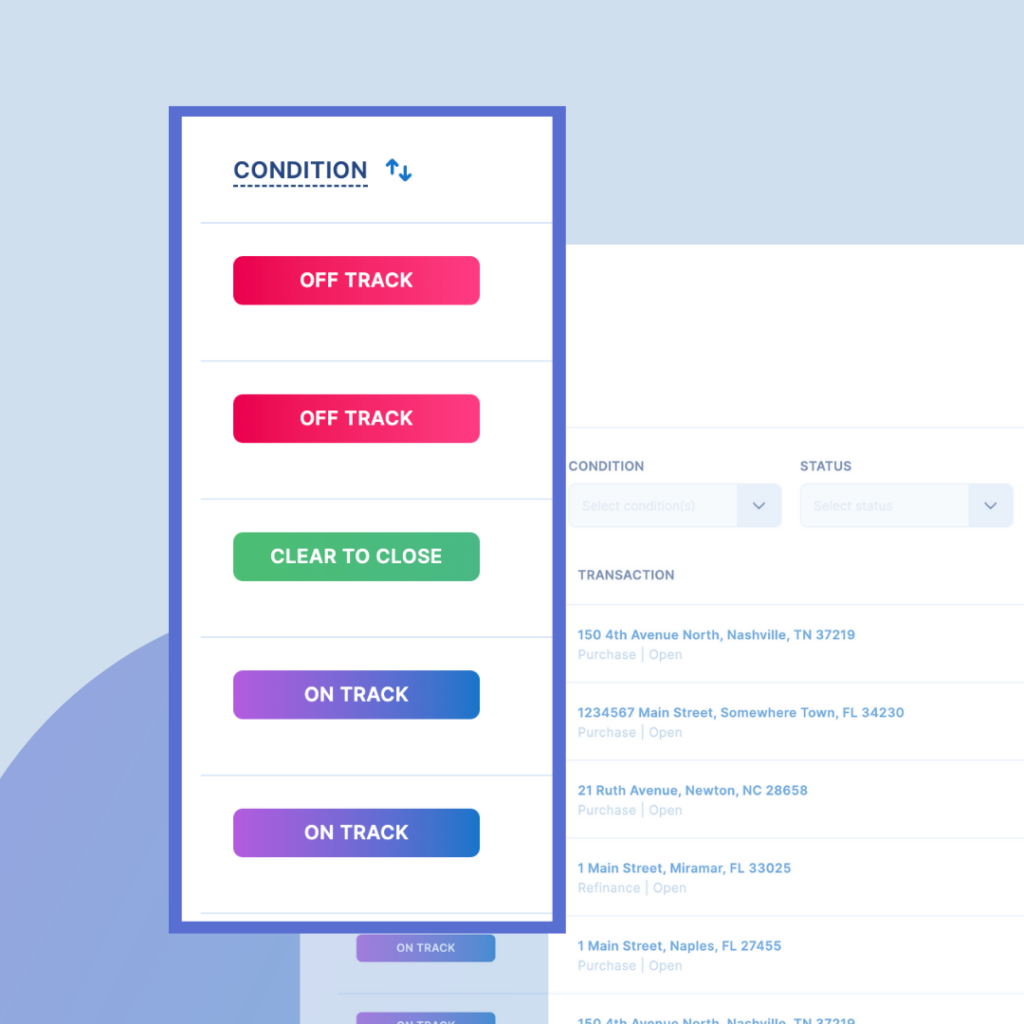 When logging into your Blueprint account, you'll find a new column on the Transactions Dashboard called Condition. This feature is designed to keep you informed on how we are pacing to meet your desired close date. There are three conditions: 
On Track

Off Track 

Clear To Close
Each communicates the overall state of a transaction as it moves toward its closing date. 
On Track signals a transaction and its milestone tasks are aligned with the projected closing date.
Off Track signals that the closing date is approaching but a required task to close is pending. If the task can't be completed before the scheduled closing, the closing date may need to be moved. To uncover why a transaction is marked as Off Track, you can navigate to the Status Tracker Milestones and explore which tasks are outstanding.
Clear-to-Close indicates that the Blueprint team has finished all tasks required to clear title and prepare the file for pre-closing. 
The second column that has been added to the Transaction Dashboard is Last Completed Task.
Here you'll see a short description and the date of the most recently completed task, highlighting the most recent activity conducted by anyone associated with the transaction. 
To get more details and see the other recently completed tasks, click on the property address of a transaction to open the Transaction Details Page.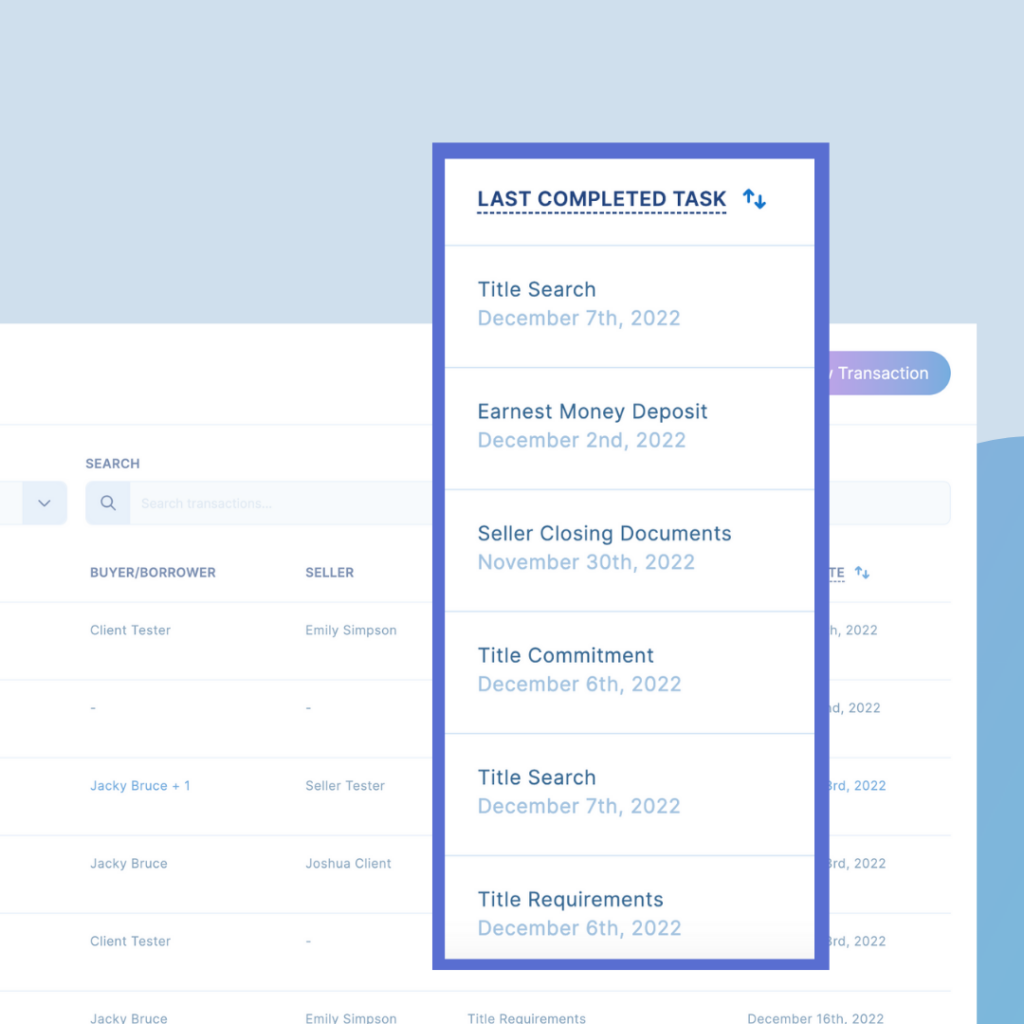 Track Progress on Each Transaction
Moving real estate transactions from contract to closing to recording involves multiple parties and tasks. Navigate to the Transaction Details Page from your Transaction Dashboard to track all the moving pieces and get into the details with these new features.
Progress Card
Recent Documents UploadedNotification
Recent Tasks Completed Notification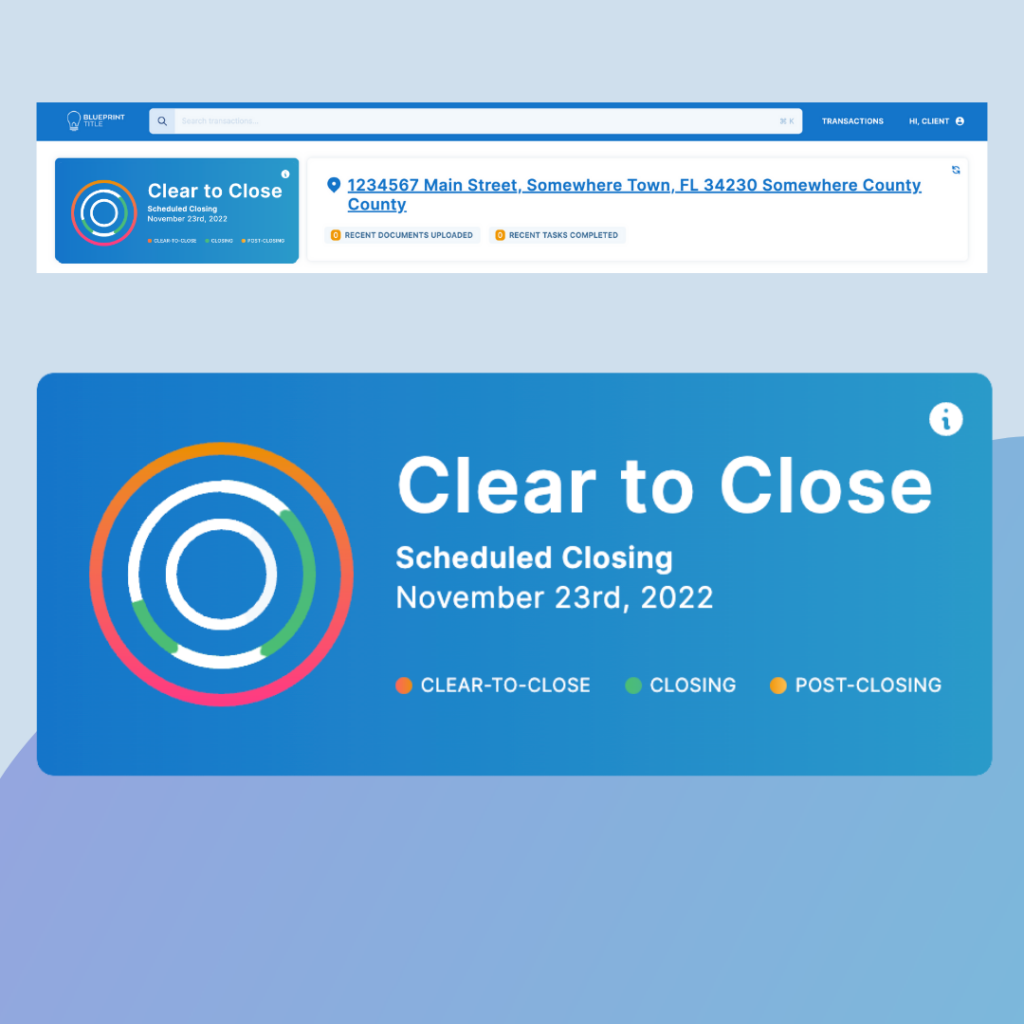 The Progress Card displays the transaction's condition, scheduled closing date, and momentum toward completing the three primary phases of a transaction.
Each phase correlates to a group of Milestone Tasks in the Status Tracker; Clear-to-Close, Closing, Post Closing. The rings fill up as tasks in a phase are completed.
The number of associated tasks and the time it takes to complete them will vary depending on each transaction's contract, title, lender, and other requirements. 
Recent Documents Uploaded
When a new document is available, you'll see the alert update to the number of pending documents requiring action or available for your review. 
Click on the alert, and you'll be taken to the Documents section, where you can view, download, upload, and sign the document.  One thing that Blueprint cannot change about the closing process is the number of documents needed to process a transaction. Still, we are focused on making it easy to access and review all the relevant documents in one place.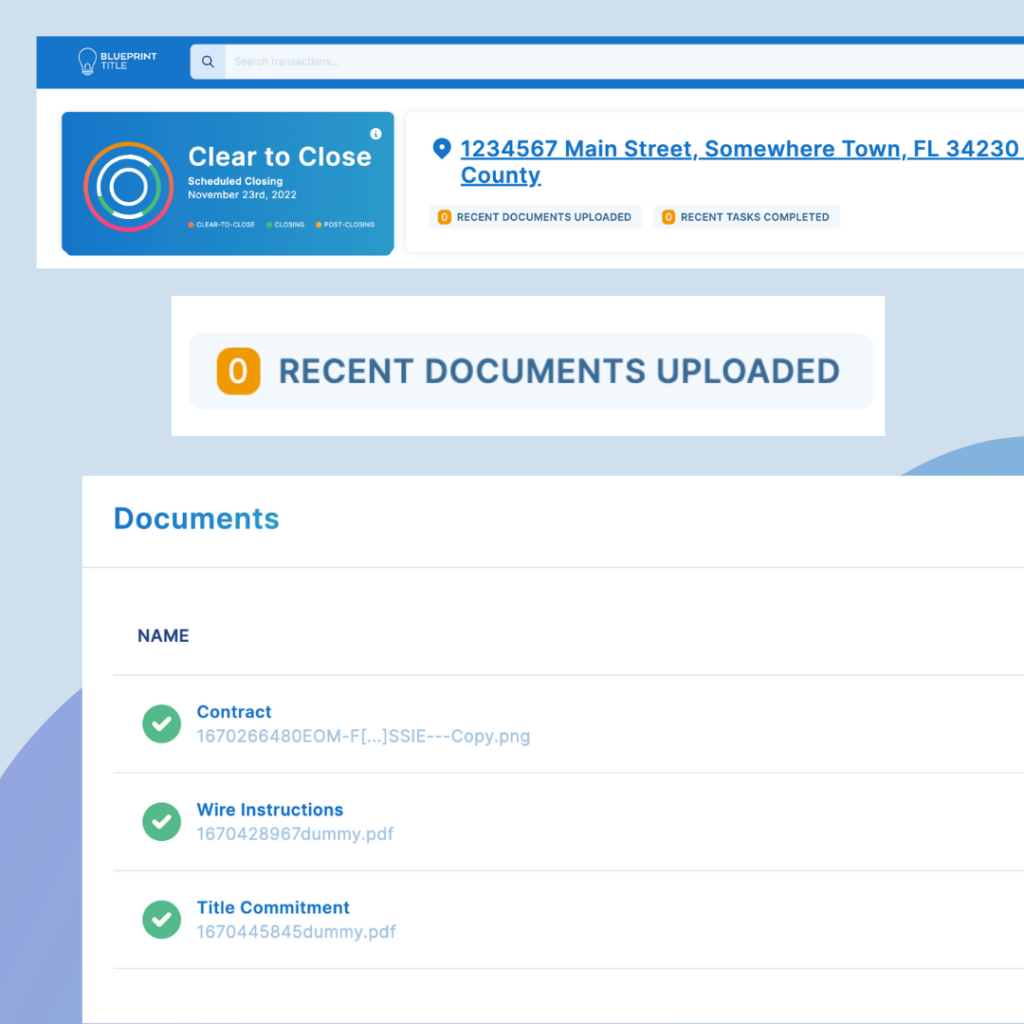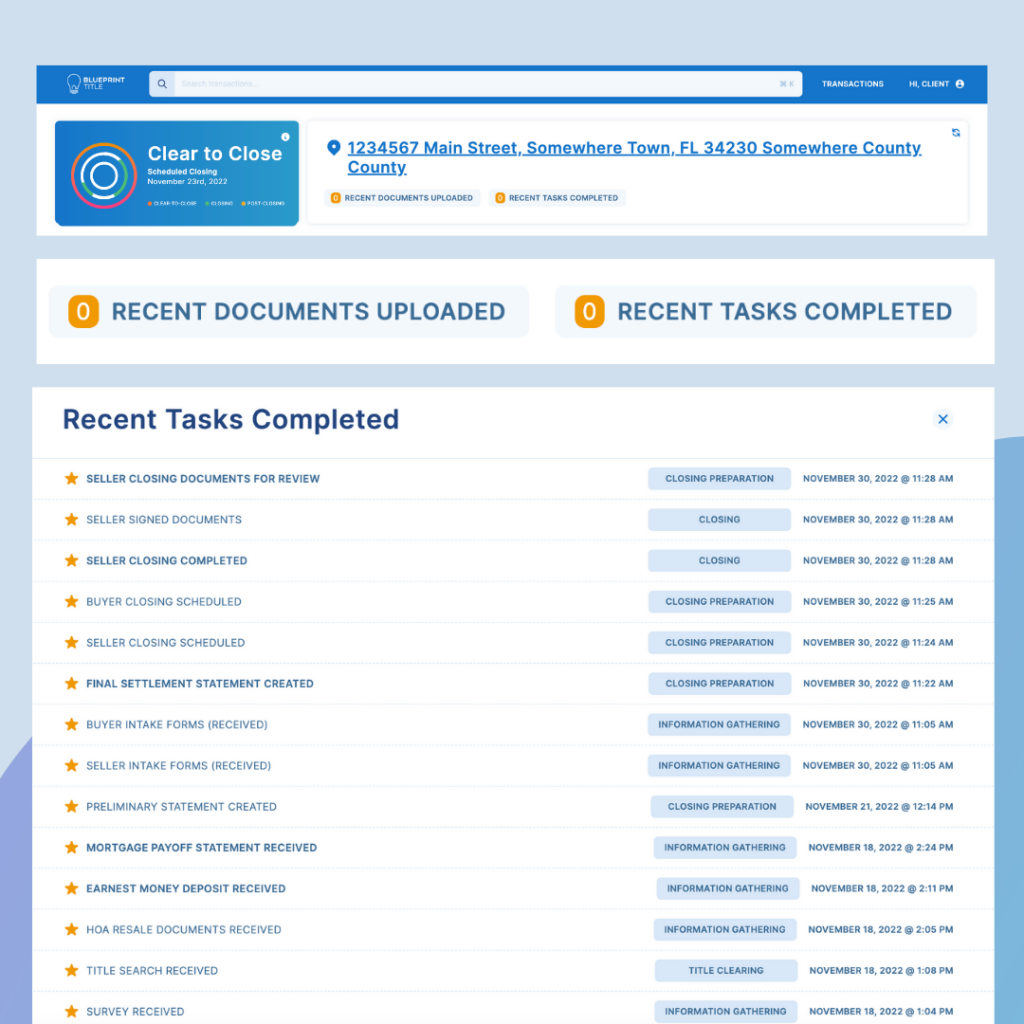 Click on Recent Tasks Completed under the property address to see which tasks were recently completed, their associated Milestone, and the date and time it was completed. 
New tasks appear with a gold star next to them.
Priority tasks like Earnest Money Deposit Received, Mortgage Payoff Statement Received, and Final Settlement Statement Created are bolded to highlight their significance in the closing process or if action will be needed by a party associated with the transaction.
Explore Enhanced Transaction Details
There's no one-size-fits-all approach to buying and selling real estate, so we've made the Status Tracker more flexible to reflect the progress of every transaction. These updates help you better gauge the more granular details before, during, and after closing. 
Title Clearing Milestone added to the Milestone Bar

Requirements for Clear Title 

Other Task Card Enhancements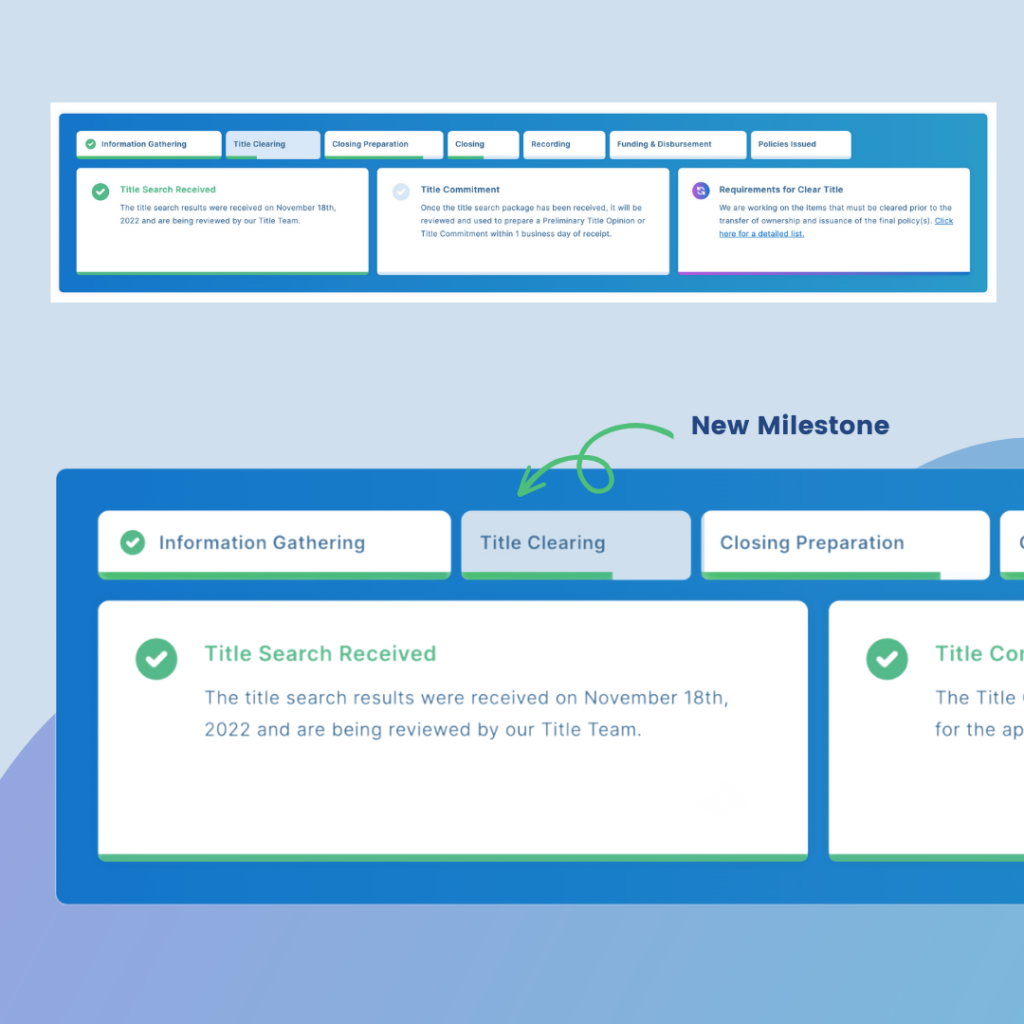 In the Milestones Bar, you'll see a new milestone called Title Clearing. Similar title-clearing tasks previously appeared under the Information Gathering Milestones tab.
Consolidating these tasks under a new Milestone with enhanced Task Cards helps our team communicate more details about your transaction's Title Commitment, making it easier to understand the requirements to clear title and close the file.
Now, you can track our closing team's progress more quickly as we clear these items.   
While the closing process has general standard requirements, the specifics of each real estate deal can vary. As a result, the path to clear-to-close rarely happens in a straight line with the same steps as a previous transaction. The Status Tracker provides the structure and flexibility to display the intricacies of each real estate closing. The Milestones remain consistent, while Tasks Cards below will change based on the contract, state, lender, title, and other requirements. One Milestone may be reached independently of the others, so the first milestone doesn't have to be completed before you see the progress bars move on other milestones.
Requirements for Clear Title
We took the guesswork out of following all the requirements listed on a transaction's title commitment. It's easy to see our team's progress in clearing these items with this Title Card enhancement.
To view the Requirements for Clear Title checklist, go to the "Requirements for Clear Title" Task card under the new Title Clearing Milestone and click on the link for more details.
A menu will slide from the right-hand side of your screen, showing completed tasks with a green checkmark and pending tasks with a grey checkmark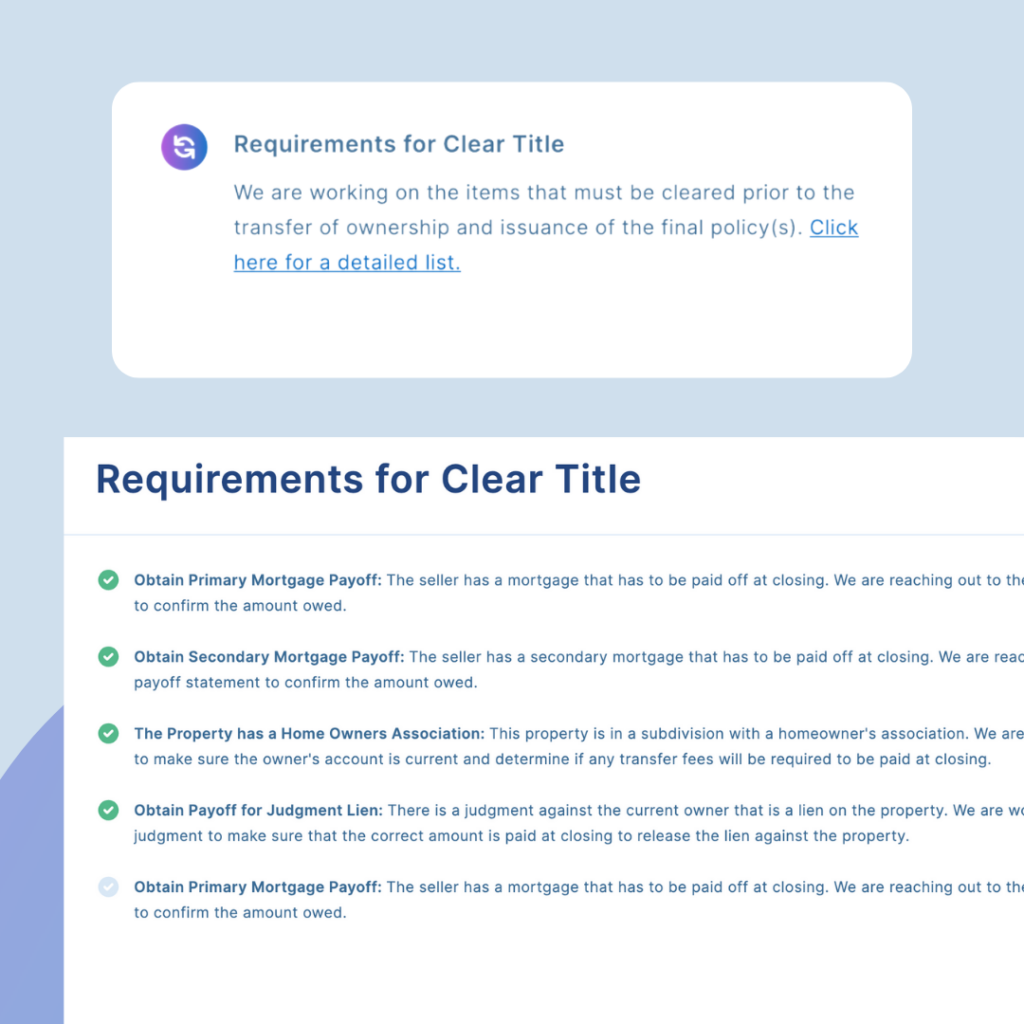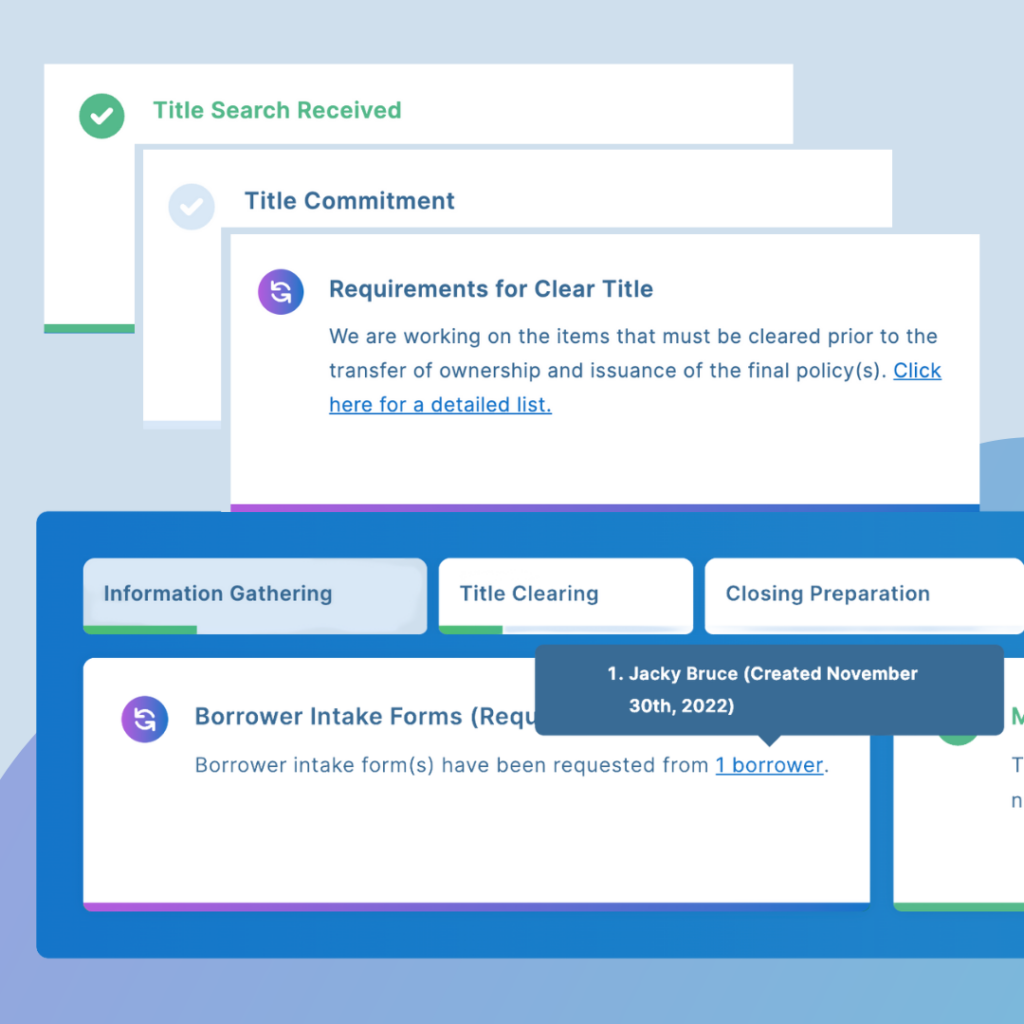 New icons on the tasks card display when a task is completed with a green checkmark, pending action from another party with purple arrows, and when a task isn't started with a grey checkmark. 
The buyer and seller intake form enhancements add new information for you to view about the status of each party's intake forms. Hover over the linked text in a task card for more details. 
If you have any questions about these updates, contact support@blueprinttitle.com. 
Accelerating Single-Family Residential Acquisitions
Blueprint helps single-family real estate investors, proptech companies, lenders, and builders gain more control over their real estate transactions, reach new markets, and achieve their business goals faster. Our processes and platform are designed to accelerate the acquisitions and dispositions of real estate assets. Whether you're using contract assignments, novations, or double closes, our team is prepared to handle your transaction. 
Schedule a call today if you'd like to learn more about accelerating your title and closing experience with Blueprint.