A Streamlined Title and Closing Experience Across the Country
Blueprint operates across the country, so you can expand to new markets confidently.
No matter where you transact, you'll get the same, streamlined Blueprint experience.
We have the market-specific knowledge to guide all your transactions from contract to close.
A transparent, competitive fee structure reflecting the market of each state.
Curious about rates in your market?
Schedule a call to discuss market-specific fees and premiums.
Ready for Your Business in These States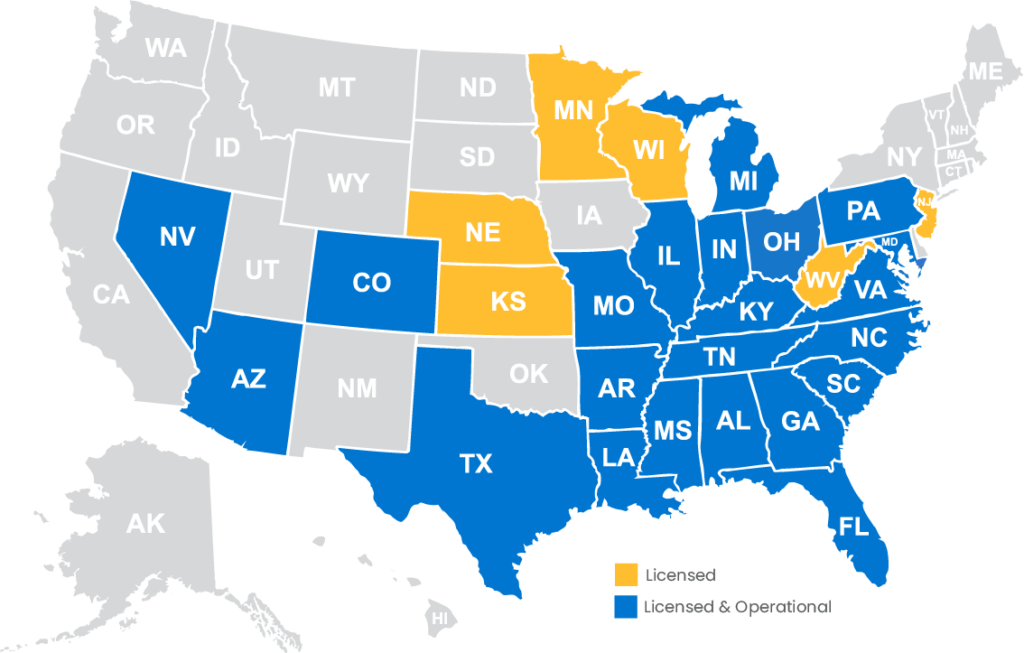 Blueprint Title States and Licenses
State
Entity
Operating
License
Alabama
Blueprint Title Agency of Alabama
3001930474
Arizona
Construct Title Company, LLC dba Blueprint Title Agency AZ
3000460342 (title), EA-1008852 (escrow)
Arkansas
Blueprint Title Agency of Arkansas, LLC
3001780766
Colorado
Construct Title Company, LLC dba Blueprint Title CO
632148
D.C.
Construct Title Company, LLC dba Blueprint Title DC
3000896169
Florida
Construct Title Company, LLC dba Blueprint Title FL
W603998
Georgia
Construct Title Company, LLC dba Blueprint Title GA
198639
Illinois
Construct Title Company, LLC dba Blueprint Title IL
TA.13.4005901
Indiana
Construct Title Company, LLC dba Blueprint Title IN
3526611
Louisiana
Blueprint Title Agency of Louisiana, LLC
997094
Kansas
Construct Title Company, LLC dba Blueprint Title KS
811757577-000
Kentucky
Construct Title Company, LLC dba Blueprint Title KY
No license required
Maryland
Construct Title Company, LLC dba Blueprint Title MD
3000880483
Michigan
Construct Title Company, LLC dba Blueprint Title Agency MI, LLC
130280
Minnesota
Construct Title Company, LLC dba Blueprint Title MN
40679791
Mississippi
Construct Title Company, LLC dba Blueprint Title MS
15037848
Missouri
Construct Title Company, LLC dba Blueprint Title MO
3000867000
Nebraska
Construct Title Company, LLC dba Blueprint Title NE
3000861575
Nevada
Construct Title Company, LLC dba Blueprint Title NV
3615056
New Jersey
Construct Title Company, LLC dba Blueprint Title NJ
3000946642
North Carolina
Construct Title Company, LLC dba Blueprint Title NC
1000696883
Ohio
Construct Title Company, LLC dba Blueprint Title OH
1265102
Pennsylvania
Construct Title Company, LLC dba Blueprint Settlement Services PA, LLC
963265
South Carolina
Construct Title Company, LLC dba Blueprint Title SC
3000872212
Tennessee
Construct Title Company, LLC dba Blueprint Title TN
2330070
Texas
Construct Title Company, LLC dba Blueprint Title TX
2333135
Virginia
Construct Title Company, LLC dba Blueprint Title VA
148488 (title and RESA)
West Virginia
Construct Title Company, LLC dba Blueprint Title WV
3000871617
Wisconsin
Construct Title Company, LLC dba Blueprint Title WI
3002514107