We've built a multi-state footprint to help our clients succeed and grow.
We recognize our partners operate all over the country. We've expanded quickly to meet their growing needs.
Our agency currently is licensed in 26 states and operating in 19 states. If you want to work with Blueprint but don't see your market listed, we want to hear from you.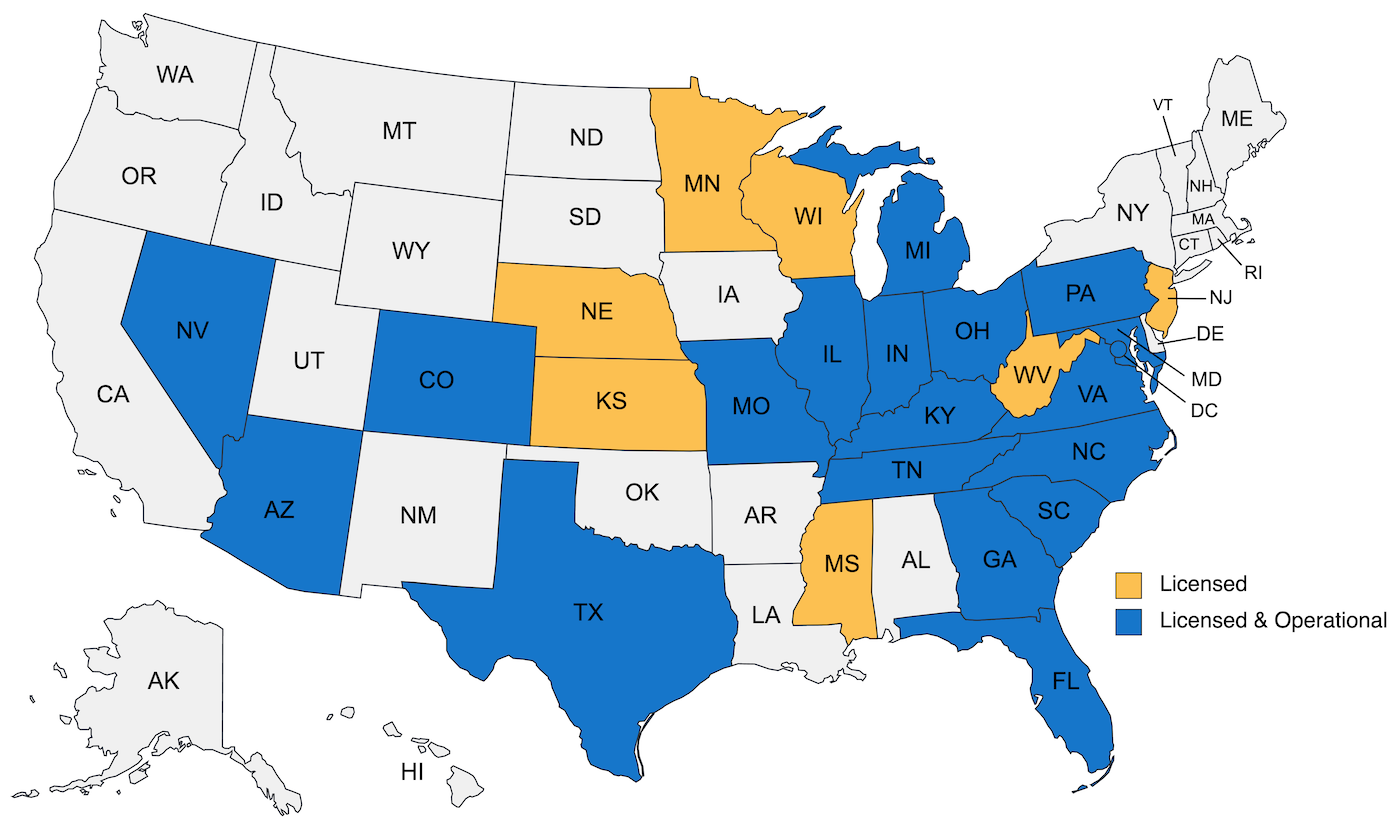 | State | Entity | Operating | License |
| --- | --- | --- | --- |
| Arizona | Construct Title Company, LLC dba Blueprint Title Agency AZ | | 3000460342 (title), EA-1008852 (escrow) |
| Colorado | Construct Title Company, LLC dba Blueprint Title CO | | 632148 |
| D.C. | Construct Title Company, LLC dba Blueprint Title DC | | 3000896169 |
| Florida | Construct Title Company, LLC dba Blueprint Title FL | | W603998 |
| Georgia | Construct Title Company, LLC dba Blueprint Title GA | | 198639 |
| Illinois | Construct Title Company, LLC dba Blueprint Title IL | | TA.13.4005901 |
| Indiana | Construct Title Company, LLC dba Blueprint Title IN | | 3526611 |
| Kansas | Construct Title Company, LLC dba Blueprint Title KS | | 811757577-000 |
| Kentucky | Construct Title Company, LLC dba Blueprint Title KY | | No license required |
| Maryland | Construct Title Company, LLC dba Blueprint Title MD | | 3000880483 |
| Michigan | Construct Title Company, LLC dba Blueprint Title Agency MI, LLC | | 130280 |
| Minnesota | Construct Title Company, LLC dba Blueprint Title MN | | 40679791 |
| Mississippi | Construct Title Company, LLC dba Blueprint Title MS | | 15037848 |
| Missouri | Construct Title Company, LLC dba Blueprint Title MO | | 3000867000 |
| Nebraska | Construct Title Company, LLC dba Blueprint Title NE | | 3000861575 |
| Nevada | Construct Title Company, LLC dba Blueprint Title NV | | 3615056 |
| New Jersey | Construct Title Company, LLC dba Blueprint Title NJ | | 3000946642 |
| North Carolina | Construct Title Company, LLC dba Blueprint Title NC | | 1000696883 |
| Ohio | Construct Title Company, LLC dba Blueprint Title OH | | 1265102 |
| Pennsylvania | Construct Title Company, LLC dba Blueprint Settlement Services PA, LLC | | 963265 |
| South Carolina | Construct Title Company, LLC dba Blueprint Title SC | | 3000872212 |
| Tennessee | Construct Title Company, LLC dba Blueprint Title TN | | 2330070 |
| Texas | Construct Title Company, LLC dba Blueprint Title TX | | 2333135 |
| Virginia | Construct Title Company, LLC dba Blueprint Title VA | | 148488 (title and RESA) |
| West Virginia | Construct Title Company, LLC dba Blueprint Title WV | | 3000871617 |
| Wisconsin | Construct Title Company, LLC dba Blueprint Title WI | | 19393808 |