5 Signs You're Ready for a New Title Partner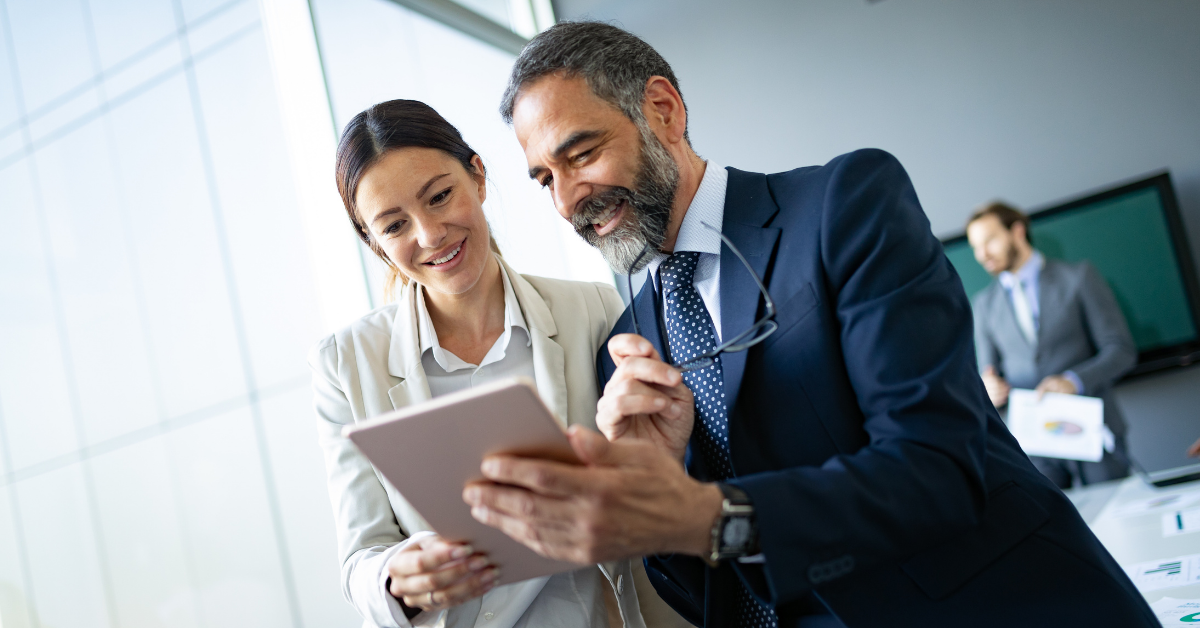 Disclaimer: The information provided on this site does not, and is not intended to, constitute legal, financial, tax, or real estate advice. Please consult your expert for advice in those areas. All content is for general informational purposes only and is not intended to provide a complete description of the subject matter. Although Blueprint provides information it believes to be accurate, Blueprint makes no representations or warranties about the accuracy or completeness of the information contained on this site. Specific processes will vary based on applicable law. The title and closing process will be handled by a third-party attorney to the extent required by law. Product offerings vary by jurisdiction and are not available or solicited in any state where we are not licensed.
Building a successful real estate portfolio requires assembling the right mix of professionals to guide you through the transaction. While title professionals are often behind the scenes in real estate, they are the secret to keeping your deals on track, helping to protect your assets from financial loss, and safeguarding your money. 
Unfortunately, as you scale your real estate empire, your business may outgrow your current title and closing service provider. Here are five signs that it may be time to find a partner who can grow with you.  
Limited coverage of services 

Outdated methods of communication

No central place to take action

Siloed data

Inconvenient closing options 
Limited coverage of services
Specializing in only one state or local region within a state may work well for the average homebuyer, but for entrepreneurs and companies looking to expand, it can hamper growth. 
The complexities and nuances affecting title change from one region to the next, so deferring to your title agency's expertise is a necessity. If your current title team is unable to provide their services in a new area, you'll have to find a new company to do the work. However, managing multiple agencies is burdensome.
Initially, adding multiple counter-parties to your workflows may seem like it wouldn't present too much of a challenge, but the additional points of contact and channels of communication split your attention and reduce your ability to effectively monitor the progress of all your transactions. 
Each state has its own rules guiding the title clearing and settlement process. You'll need to lean on your title partner to help you take the right steps, but not all of these professionals use the same process and tools to keep your transaction on track. Working with one partner ensures that you can successfully navigate these specific requirements and maintain a predictable closing timeline.  
Instead of awkwardly juggling more than one title agency, it may be time to choose a platform that can service your title and escrow needs across state lines. Blueprint, for example, operates in states across the country, and our footprint is growing. See where we work. 
Related reading: Should residential real estate investors work with a multi-state title company?
Outdated Communication Options 
In a perfect world, there'd be smooth sailing from the signing of a contract to the closing day. However, perfecting title defects can take time and require the proactive participation of different parties, so working with a title agency that communicates effectively is important. 
Unfortunately, the modes of communication for many are outdated. 
The last thing you want to do is sift through email chains to find wiring instructions, documents, and other information. Additionally, email is notoriously susceptible to wire fraud, so sending documents with personal and property information this way can make your transaction a target. Having to make a reactive phone call to get answers can also be frustrating.
To avoid business email compromise, your title agency may suggest alternatives like faxing a document or using a courier service. A better option is to centralize all communications and actions into one platform, simultaneously reducing friction and cyber security concerns. 
Blueprint delivers confidence by taking you from contract to close securely. Our technology was introduced to give real estate entrepreneurs, proptech companies, builders, lenders, and their clients a place to receive clear communications about how to resolve issues or complete tasks. When a pending action is overdue, Blueprint automatically sends notifications to the appropriate parties. Our support team is available to answer questions with a click of a button within the platform, too.
If you work with a title agency that doesn't streamline communication within a single platform, it's another sign to move on. 
Request a demo to learn more about Blueprint. 
No Central Place to Take Action
Much of the real estate industry has embraced new technology to aggregate, analyze, and securely serve information to improve their customers' experience. From iBuyers to eMortgages, starting the real estate transaction is easier and more convenient than ever. However, as parties move into the title, escrow, and settlement phases, friction and uncertainty surface. 
Managing your transaction becomes difficult without a centralized place to review the next steps. Blueprint pulls all this information into your user dashboard and displays important milestones for each transaction.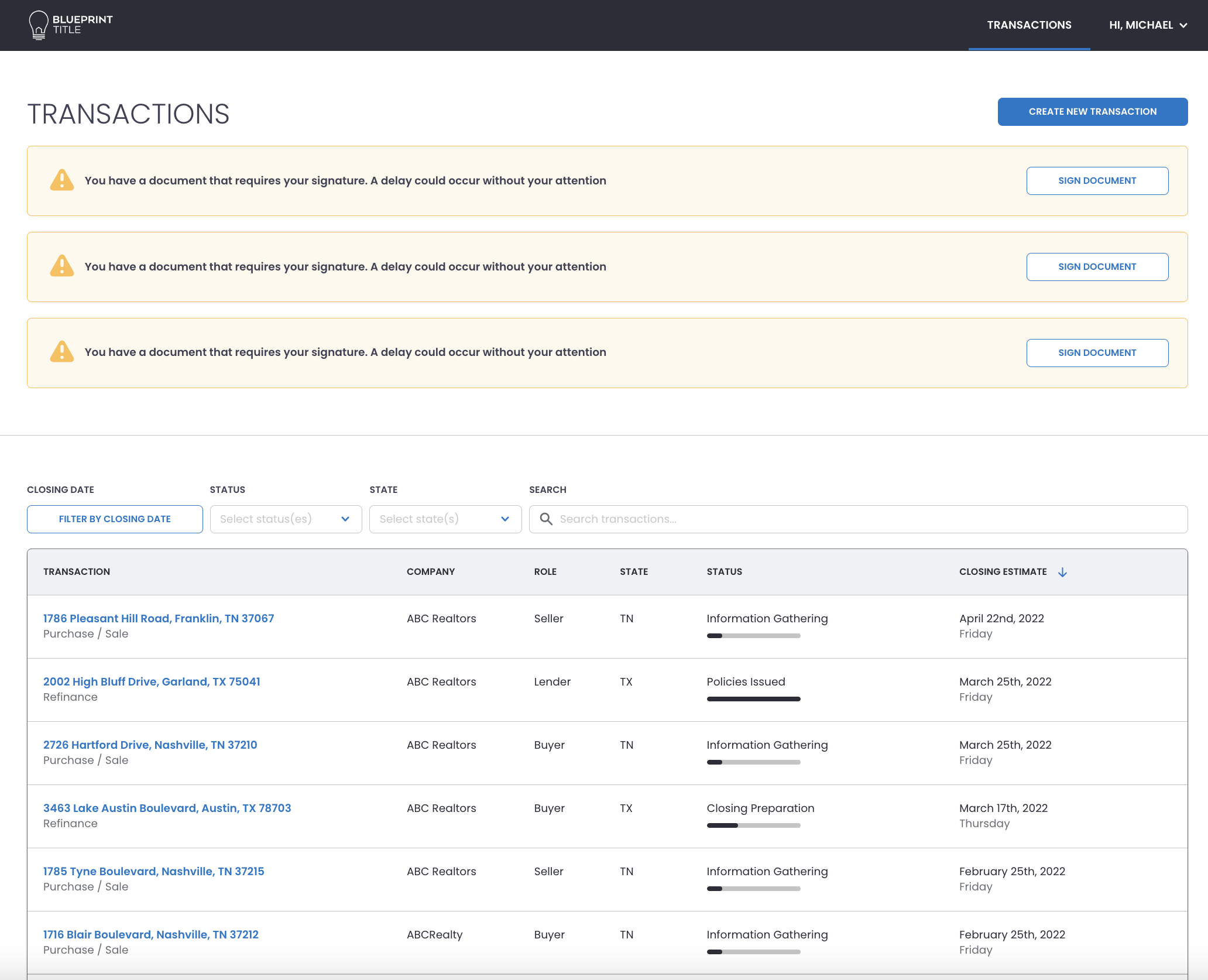 Within each transaction, you'll find important information like the estimated closing date, property information, the Status Tracker, transaction tasks, and all documents relevant to each user. Documents can be digitally uploaded, downloaded, and signed with our eSignature tool integration. As the transaction progresses, transaction tasks are updated and alerts are sent when a transaction is in danger of going off track. 
Managing multiple deals every month is easy in the dashboard view. Here, you'll find quick insights into each pending transaction that includes the estimated closing date and an abbreviated version of the status tracker. From the dashboard, you can also search and filter transactions by state, closing date, or status, and filter the pages by oldest or newest closing date.
If your current title agency doesn't provide tools to organize all your deals, track transactions, and complete timely tasks, your plans for business growth may be restrained.
Siloed Data
Data is one of the most precious business resources today. Without accurate, accessible, and timely data, you can't make the best decisions that impact your bottom line. 
If you're a professional working on complex transactions with multiple properties, you need regular insights into transaction statuses and easy ways to push and pull data into your preferred business tech stack. Without an API, the data your title agency holds could fall into a black hole. Your daily workflow is disrupted by logging into another system, writing an email, or dialing the phone to place an order or follow up on a pending transaction. 
With Blueprint, you can harness the transaction information you need where you want it. Our API allows you to submit new transactions, pulls information about in-progress deals, and pushes real-time updates on transaction status. To get access to the API, fill out this demo request form. 
To foster a seamless and scalable business workflow, find a title agency that can sync your transaction data.
Inconvenient Closing Options
Time is another valuable commodity that smart investors maximize whenever possible. Driving down to a title agency's office to sign stacks of closing documents is a waste of this resource. While remote online notarization (RON) is available in most states and more lenders are allowing its use, it can't always be accommodated due to local regulations or a title agency's capabilities. As a result, most closings still take place at a title agency's office.
Blueprint, on the other hand, is intentionally designed to prioritize digital and mobile closing options. We've eliminated many overhead costs associated with the title and closing experience with better technology, useful vendor integrations, and optimized workflows.
When RON isn't a viable option for your closing, we schedule mobile loan signing agents to meet with you and your clients. Blueprint gives you the flexibility to schedule and update these appointments as needed. 
Additionally, many of the transactions we specialize in only require eSigning appointments that can be completed within our platform.
Working with a title agency that can provide more convenient closing options is a must for any professional with a busy schedule.
A New Approach to Title and Closing with Blueprint
The tools most title agencies use to guide you through to the closing are outdated and don't align with real estate professionals' workflows today. Whether you're flipping, holding, wholesaling, building, or lending, our powerful title and escrow platform can service most of your needs from the time a contract is signed to when the transaction has closed. 
If you're experiencing growing pains with your current title partner, consider Blueprint. Schedule a demo with our sales team to see how we're building a modern title and closing experience.