Blueprint is Open for Business in Louisiana!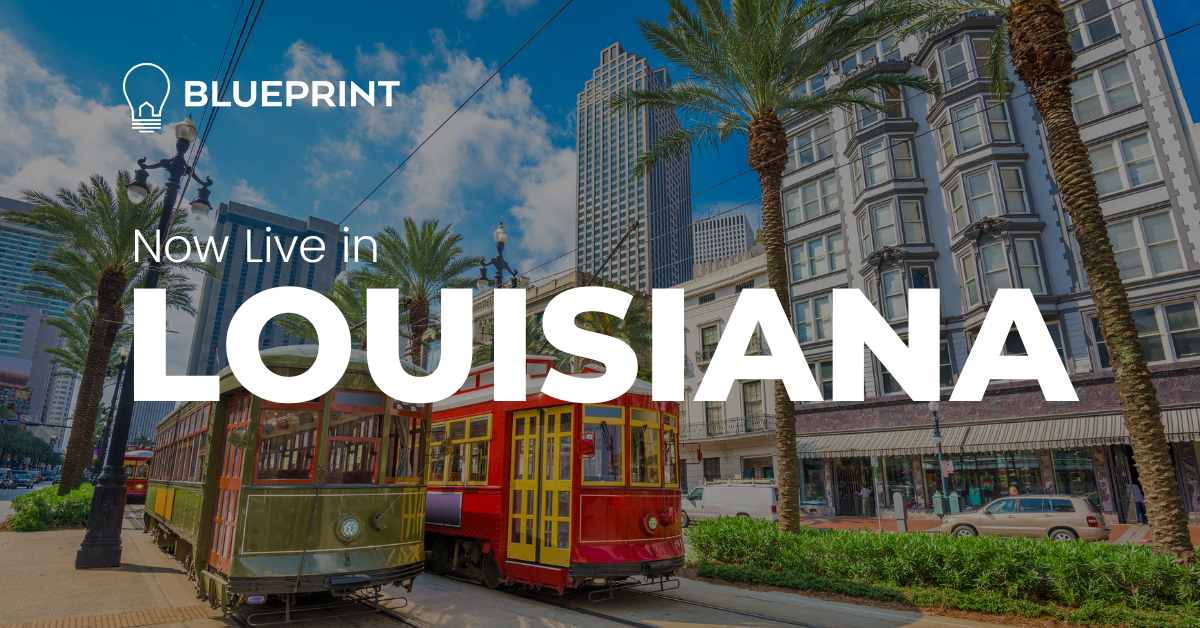 Disclaimer: The information provided on Blueprint Blog does not, and is not intended to, constitute legal or investment advice. All content is for general informational purposes only and is not intended to provide a complete description of the subject matter.
Blueprint's footprint has significantly expanded since the start of the year. We previously announced launches in Mississippi, Arkansas, and Alabama. And we didn't stop there. 
Today, we're excited to announce that we're live in the land of jazz, the Big Easy, and cajun flavors. If you do work in Louisiana, we're ready for you.
We're Still Rolling!
One of the key goals of Blueprint is to be a national title and closing platform.  These recent expansions show a commitment to this goal. With Louisiana and our recent addition of Alabama, we're now licensed in 29 states, and you'll continue to see growth from here. 
Keep an eye on this blog for more information about any future expansions. 
Why Louisiana?
Louisiana has been no exception to the trends seen elsewhere across the country. Its real estate market continues to show growth in home values, with significant rise since the beginning of 2021. As of September 2022, the average home value was just over $215,000. This represents a rise of 0.75% month over month, and an overall rise of 13.1% in the past year.  
The hottest housing markets in Louisiana continue to be the cities of New Orleans, Baton Rouge, and Lafayette. New Orleans, in particular, is both a cultural center and boasts significant industries, including technology and logistics. 
Houses in New Orleans trend almost $100,000 more than the state average, but still come in at a median of $340,000. While March saw growth, the median price in New Orleans has fluctuated during 2021 and into 2022. The Audubon and Lakeview Park boast the highest median prices ($899,000 and $699,000 respectively), while the Little Woods neighborhood is the lowest ($192,500). 
Baton Rouge presents a more affordable alternative to the Big Easy, with a median sale price of $260,000. Baton Rouge has seen steady incremental growth in home prices since 2020, up 13.5% year-over-year. Baton Rouge's most expensive neighborhood, Southside, comes in at a median of $425,000. On the other hand, it has multiple neighborhoods with medians under $100,000, including North Baton Rouge ($97,500), Scotlandville ($90,000), Delmont Place ($59,900), and Eden Park ($32,900). 
Lafayette is slightly higher than Baton Rouge, while still coming in well under New Orleans. Its median home price is $259,900, up 11.1% year over year. Lafayette actually boasts the neighborhood with the highest median home prices of all three cities in Greenbriar Estates ($925,000), while its lowest median prices are around $133,000 in downtown Lafayette and $165,800 in Souvenir Heights. 
Blueprint at a Glance 
For those newer to us, Blueprint is a title and closing platform built for those in the business of buying and selling residential real estate. Our partners include real estate investors, wholesalers, proptech companies, lenders, and builders.
Our focus is on streamlining the transaction process so that our partners can focus on building their businesses without the common headaches of real estate closings. 
Blueprint helps make transactions more efficient, more cost-effective, and more transparent. You can find more information about our technology and what it can do for you here.
What Does this Mean for You?
Blueprint is fully licensed and ready to process transactions in Louisiana. 
Whether you're an investor or builder based in one of those states looking for a title platform built with you in mind, or an out-of-state investor looking to break into either state, Blueprint is ready to help. 
Current partners can now submit Louisiana transactions through Blueprint today. 
For those of you just getting to know us, you can start the process by requesting a demo here.