Blueprint Concierge: Building the End to End Transaction Experience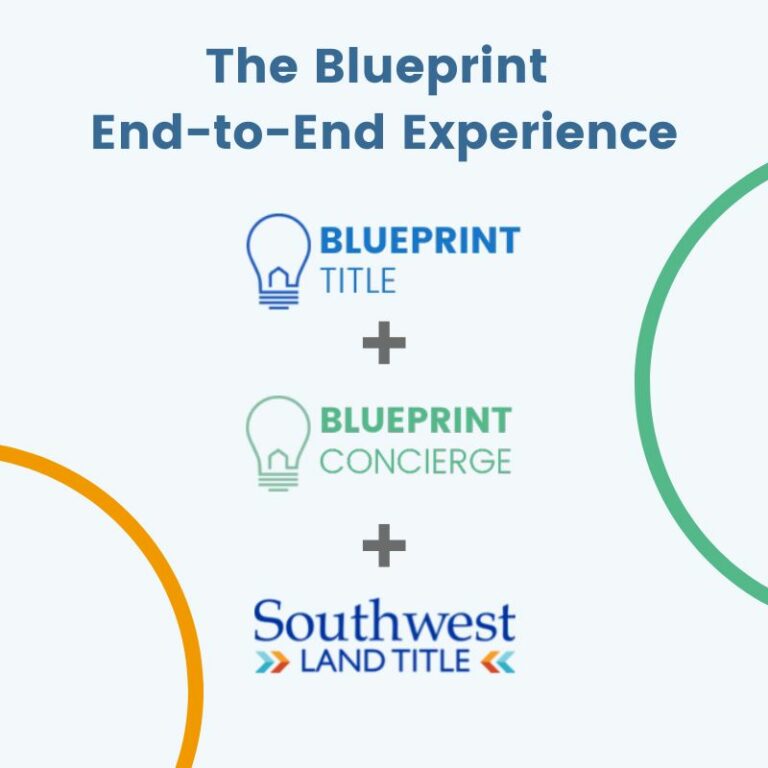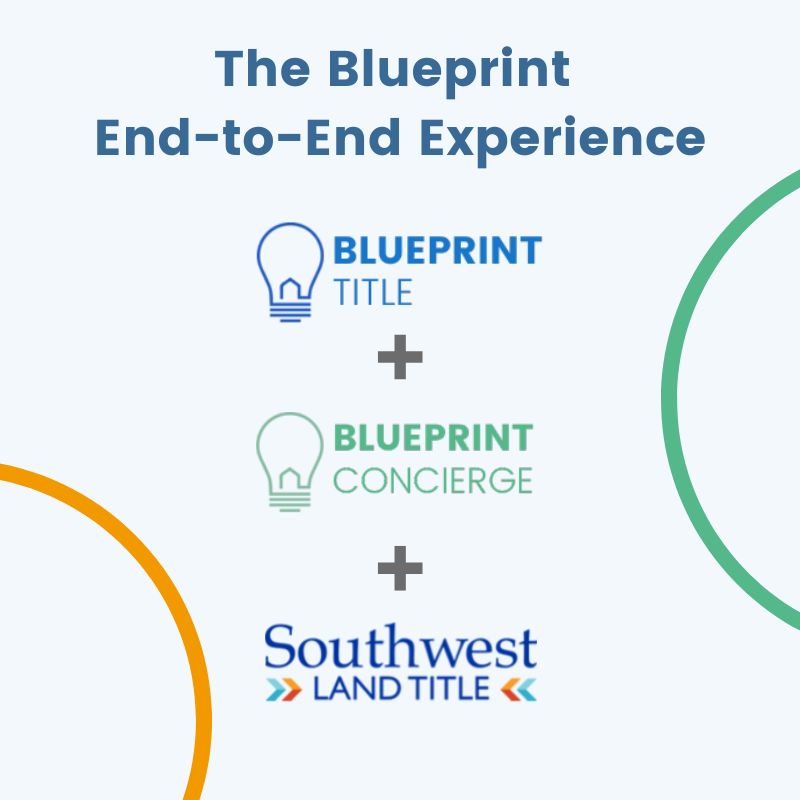 Disclaimer: The information provided on this site does not, and is not intended to, constitute legal, financial, tax, or real estate advice. Please consult your expert for advice in those areas. All content is for general informational purposes only and is not intended to provide a complete description of the subject matter. Although Blueprint provides information it believes to be accurate, Blueprint makes no representations or warranties about the accuracy or completeness of the information contained on this site. Specific processes will vary based on applicable law. The title and closing process will be handled by a third-party attorney to the extent required by law. Product offerings vary by jurisdiction and are not available or solicited in any state where we are not licensed.

At Blueprint, we believe that residential investors and lenders deserve a better transaction experience. Buying, selling, or refinancing a home should be as straightforward and transparent a process as possible, especially for those building businesses through these assets. A better transaction can and should mean more scale in more markets at lower costs. 
We learned early on that the first barrier to a streamlined transaction often lay in title and closing. When we began, title was still a paper process, managed locally, with escrow officers managing both investor and consumer transactions simultaneously. We built our title agency specifically to solve this problem, introducing better technology, an investor and lender-targeted approach, and processes built for scaling businesses. 
We've spent the last six years working alongside investors and lenders of all sizes and models. We've worked with everyone from the most prolific proptech and fintech companies to high-volume wholesalers hustling to land every deal. Through 1000s of transactions, we've learned that giving these companies the best transaction experience doesn't just stop with title. 
Recently, we launched a new company to revolutionize the way that companies manage their transactions contract to close, Blueprint Concierge. 
What is Blueprint Concierge?
Blueprint Concierge is your project manager for transactions. With Concierge taking care of the details, you and your team can focus on growing your business. 
Concierge learns your unique business and transactions at a deep level, adapting to your existing processes or crafting new ones to ensure that transaction tasks are accomplished efficiently and effectively. The team can handle everything from reviewing documents for completeness to tracking milestones and deadlines to obtaining important EMD or HOA information. Concierge also engages directly with your title company, your counterparties, and other transaction stakeholders, ensuring alignment and solid communication throughout the process. 
When it comes to title and closing, Concierge is fully integrated with Blueprint Title and the Blueprint Portal. Your Concierge team has direct access to track title and closing milestones, accomplish transaction tasks on your behalf, and directly engage with the Blueprint Title team.  This creates a seamless, collaborative, unparalleled experience between Blueprint Concierge, Blueprint Title, your transaction team, and you. 
Why did we build Blueprint Concierge?
As we've grown and iterated on the process of title and closing, we've had the opportunity to work closely with many different types of businesses. One thing we've learned: closing a transaction requires communication between the title company and the client. When both sides are working together in harmony, with great communication and effective process, transactions move quickly to closing with the fewest possible headaches. 
Not every company has the capacity to build the best possible internal transaction team. Great proptech, fintech, or investment businesses have a lot of moving parts and you can't always focus on everything at once. With so many priorities, achieving scale means building the right teams becomes vitally important. 
Blueprint Concierge is the solution that takes one of those priorities off your plate. Maybe you need to augment your current team as you add additional markets, transaction types, or simply expand your pipeline. On the other hand, you may be trying to determine how to add transaction management for the first time. Either way, Concierge is a plug-and-play solution that immediately brings capacity, expertise, and experience to your organization.
What does Blueprint Concierge mean for the Blueprint Ecosystem?
The goal of Blueprint has always been to revolutionize the residential real estate transaction experience. For those involved in the business of buying, selling, and lending on homes, it is that much more important that the experience is streamlined and transparent from end to end. When you have multiple transactions in progress, making sure that each detail is taken care of for each transaction becomes vitally important. 
Building a better transaction experience starts with better title and closing, which is why Blueprint Title is the foundation for what we do. Blueprint Title's modern, tech-powered processes means that we can handle whatever you bring to the table, from standard purchases to creative transaction types to huge portfolio deals. In addition, Blueprint's footprint spans across the country, giving you one title provider across your markets. 
To accompany our agency footprint, we added a title underwriter, Southwest Land Title Insurance Company. While most title underwriting follows the same thought processes it has for 100 years, Southwest exists to bring innovative pricing and rules to the table. As an example, Southwest can deliver up to 40% lower premiums than our competitors. 
Blueprint Concierge is the next piece of the puzzle. Where Blueprint Title and Southwest deliver vital external services in new and innovative ways, Blueprint Concierge becomes a part of your team, truly helping you grow your pipeline capabilities. 
When these three products come together, you get a fully fleshed-out, end-to-end closing solution that understands your business, your transaction, and your goals. With this combination, Blueprint can not only help you scale but achieve what you set out to do. 
If you're an existing Blueprint Title client looking to add Concierge, reach out here. If you're new here and want to put the Blueprint ecosystem to work for your business, click here to start a conversation with our team.